"Windsor is lucky indeed to have this amazing team available to support their teachers and students. 

Their unique expertise to utilize their particular art forms to communicate core curriculum concepts to students of all abilities coupled with their passion and belief that all children should find learning not only accessible, but fun make them indispensable to classroom teachers."
Patricia Valenteyn, Managing Director
Coalition for Music Education Canada  

Our experienced team are practicing artists and educators,
professionals dedicated to artistic excellence and community contribution.
Arts Can Teach Executive Director
Your content goes here. Edit or remove this text inline or in the module Content settings. You can also style every aspect of this content in the module Design settings and even apply custom CSS to this text in the module Advanced settings.
Dance, Creative Movement
Joanna Coughlin, B.Ed, OCT, is an interdisciplinary arts educator and dance teacher.  In addition to receiving her Bachelor of Education in the Primary/ Junior division, Joanna has continued her studies by receiving her Intermediate ABQ in Dramatic Art and Special Education (pt 1) and Dance (pt 1) AQs. As an arts educator Joanna has worked with kindergarten through grade 7 students, focusing primarily on kindergarten.
Drumming, Spoken Word Poetry
Teajai Travis is an Afro-Indigenous descendant of formerly enslaved peoples. Teajai Travis is the Founder and Director of The Bloomfield House, the current chair of The Windsor Youth Centre and a board member with The Friends of the Court and Literary Arts Windsor.
Teajai is currently working on a collection of poetry titled Born Enslaved: A Freedom Story, as well as a play and a collection of short stories of the same name. The work shares his Ancestors heroic journey from slavery to freedom. Inspired by the works of Nikki Giovanni, Dick Gregory, James Baldwin, Afua Cooper and Sal Williams, Teajai uses a poetic language to share the complexities of struggle and triumph from his unique lens.
Expressive Arts - Drama, Writing, Embodiment
Linda Lord, MA Expressive Arts Therapies and Coaching. Linda brings 20+ years group facilitation. Currently, in private practice as well as a storywriter for stage, Linda loves creating safe spaces for exploration, education, and expression with children of all ages. Areas of experience: anxiety, depression, recovery, divorce, and grief. Modalities include: drama, expressive writing, and embodiment.
Dance, Creative Movement
Your content goes here. Edit or remove this text inline or in the module Content settings. You can also style every aspect of this content in the module Design settings and even apply custom CSS to this text in the module Advanced settings.
Puppetry, Music
Matthew Romain, the Laughtertainer, has been building puppets and performing since 1980. He teaches the art of puppetry to elementary, high school, and university students, and presents hands-on workshops for teachers, performing artists, and enthusiasts.
Matthew embraces each project with joy!  Whether he's teaching a puppetry class, or bringing characters to life for a television show, or animating giant puppets with the Toronto Symphony for audiences of thousands, or enlivening a children's birthday party in a living room, his work consistently receives the highest praise. He has received numerous awards for excellence in his field.
Visual Arts
Born in Paris, France, Suzanne Konyha spent her early life living and traveling between Europe, Canada, and the United States. She attended both public and private schools and then settled in Windsor in 1972.  Suzanne received her BFA from Marygrove College (Detroit) and her Bachelor of Education from the University of Windsor. She is a professional artist and has exhibited her work in Windsor and Detroit.
Suzanne is an avid arts educator and has always striven to share her knowledge and skill with others in her community. She has facilitated camps, workshops, and classes for both youth and adults at the Children's Aid Society, the Alzheimer Society of Windsor-Essex County, the Homeless Coalition of Windsor/Essex County, and the Bridgeview Community Outreach Program, Inc.
Suzanne believes in the importance of a quality art education for everyone, particularly the more vulnerable residents in Windsor and Essex County. She looks forward to working with other groups and individuals in her community.
Dance, Creative Movement
Katie Mecher-Williams is a native of Windsor. She has been performing and teaching dance for over 30 years. She is currently the artistic associate and dancer with HNM Dance Company. Katie also teaches modern dance for the St. Clair College Musical Theatre Program.
Katie is a graduate of the Theatre Dance program at Ryerson University in Toronto. She has trained at the Minsk Choreographic School in Russia, with Toronto Dance Theatre, with Ottawa's Le Groupe de la Place Royale, and Dance Theatre David Earle. She has performed with notable companies in Ontario and Michigan. Since 1989 Katie has participated in educational programming in the schools, notably taking part in Gina Lori Riley Dance Enterprises' Arctic tour and working as a classroom artist educator since 2002.
Katie is passionate about movement exploration with students of all ages and abilities. She encourages participants to find their "dance voice" as a means of expression and interpretation.
Francophone and Multicultural Programming
We are developing exciting community partnerships to provide Francophone and Multicultural programming.      Stay tuned!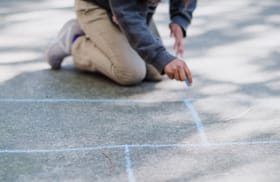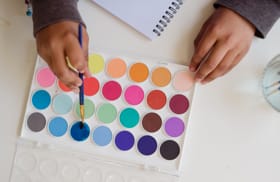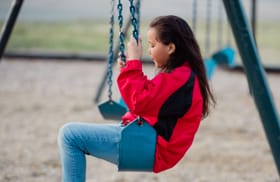 Our History
Arts Can Teach 
Arts Can Teach builds on the legacy of Learning Through the Arts,  a program created in 1994 by Angela Elster and Toronto's Royal Conservatory. This groundbreaking program brought artists and teachers together in classrooms across Canada, training and transforming through arts integration. One of the original cities, Windsor embraced this artist-teacher partnership model, sustaining and growing since 1999.
With many of Windsor's original artist educators, Arts Can Teach continues to expand, innovate and develop its programming to support our region's schools and community.
A Word from our
Executive Director
We are eager to share what the Arts Can Teach!